Today is the Stamping Friends Trifecta blog hop with the amazing My Sweet Petunia, Picket Fence Studios and Gina K. Designs. You are going to be amazed at the beautiful creations by all the artists involved in this hop!
Today's project was created with Picket Fence Studio's Life Changing Blender Brushes along with the Random Dots stencil. I used Gina K. inks with the medium brush (third from left in photo)
Life Changing Blender Brushes (LCBB) are made of thousands of plastic hairs that pick up but NOT absorb ink. You can blend softly by holding onto the handle, blend medium by holding the head of the brush, or complete coverage by flattening the bristles. Super fun & life changing (to stampers)! These brushes can be used with any water-based ink that doesn't cause the brush to become stiff. Please don't ruin them by using them with acrylic paint or Glitz Gel because of glitter.
Brushes can easily be washed with either brush cleaner or mild soap and water if they get super dirty, but you can simply swirl the brushes on a scrap paper to clean between uses. Baby wipes work well too! Let them dry naturally, don't heat them with a blow dryer or heat tool! That can ruin them too!
For the first card, I started by using Gina K. Designs jelly bean green ink with light pressure and then firmer pressure in the middle of the card. On the left I used some asparagus ink to make it even deeper. Love the way the background turned out! I used a scrap piece of Gina K. white card stock and stamped the leaves and flowers from Elegant Asters with Gina K. black amalgam ink. The flowers and leaves were colored with spectrum noir markers, trimmed and then attached with a foam square. I added some glitter to the center of the flowers for a little sparkle!
Using the Misti allows for the precise alignment of the sentiment to the background! I do want to mention a new Misti tool called the Cut Align which a great tool for stampers. It allows for you to cut images without your paper trimmer with precise measurement!
This second card is super fun! I created it while wearing my favorite t-shirt from Target! Did you need to know that? No! But if you love coffee, you will love this shirt!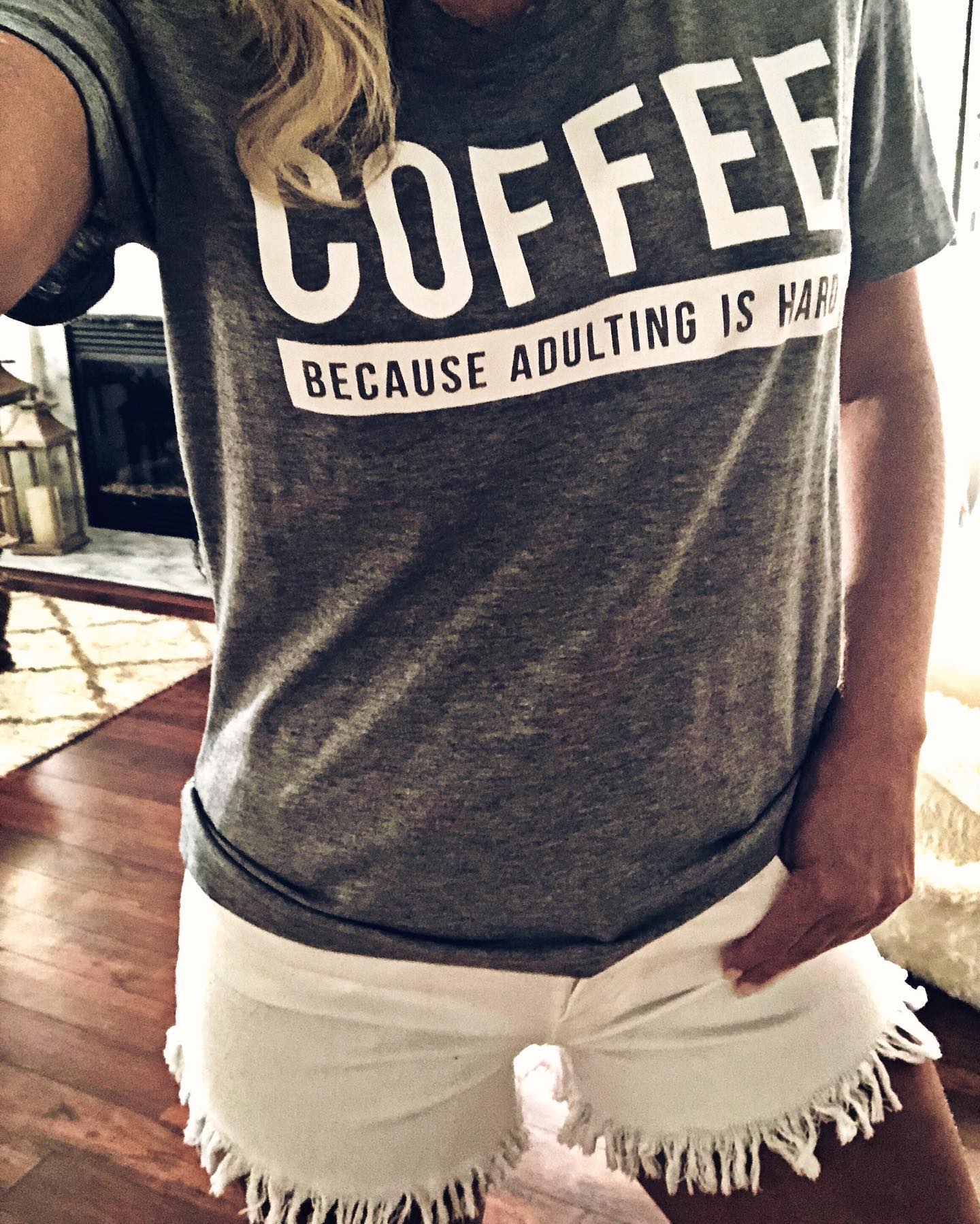 I love coffee and two years ago switched to a french press, so the Good to the Last Drop stencil made me squeal with delight when it arrived in my hands! It made for a perfect background…the colors spoke to me – it looks like a summer sunrise! I got this effect using this variety of yellows and pinks from Gina's ink collection (Lemon drop, sweet corn, sweet mango along with Passionate Pink and Bubblegum pink). Its very therapeutic to blend with the (LCBB)! I have to admit I am a sloppy stamper. The Misti is a great tool for me. I can't begin to count the number of cards which I have ruined because of an errant sentiment. Did that ever happen to you? You're finishing up the card with the sentiment, you don't stamp hard enough or ink up the image enough and you think, "Oh….I can fix this!" You attempt to line up the image again, but the caffeine jitters take over and "oooofffff" the image looks double stamped! The Misti tool allowed me to go back and re-stamp the sentiment as black and perfect as I want it to be! I stamped the sentiment three times to cover every little imperfection! I finished off the card with a couple of gems from my bauble bucket! What do you think? Leave me some feedback! ❤
HOP DETAILS:
The Hop Starts with Gina and continues with designers from all three companies. As a bonus to you, the three companies participating will be giving away a $50 gift card to their stores, randomly drawn from the comments at each stop on the hop. So three gift cards total! Winners will be announced on the company blogs no later than June 7th.